Looking back, home security cameras have surely evolved in terms of technology, price, ease of set-up and operation, output quality among other factors. Over the years, manufacturers have creatively come up with cameras that address needs such as night vision, affordability, resolution, size, energy efficiency, ease of use and compatibility to devices. Depending on what you are looking for, there are a variety of top-notch home security cameras to choose from.
Below are reviews of some of the top home rated security cameras; in 2018.
1. FOSCAM FI9803P
It is a plug and play camera. One of its most unique features is its ability to withstand harsh weather conditions. This makes it most suitable for outdoor use. Other great features include:
Its ease in setting up. To connect it, you are simply required to scan the Camera's QR code, using a smartphone, and that's it!
Enabled night surveillance.

Impressive picture quality

Provides two options of storing data: you can store it on a hard drive or use Foscam cloud service.
Wireless.
It is able to automatically send off alerts to both email and FTP servers.
The manufacturer provides Commendable service support to its customers.
However, this camera has a few setbacks such as it does not come with a monitor and despite one of its features being wireless, you do need a few cords. Its estimated price is $80
Technology Specifications
It is IP66 waterproof rated.
Has a night vision of up to 20m.
A 70 degrees viewing angle.
720P image quality.
One year Warranty.
2. Lorex LBC7032F 700TVL 960H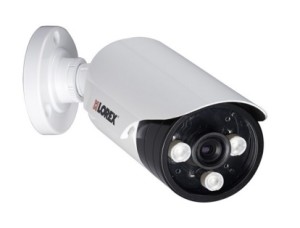 This camera is known for being suitable to use in all kinds of weather conditions. It also has a very strong build that makes it resistant to vandalism. Other key features include:
Efficient for use both indoors and outdoors.
Provides great and satisfactory night vision.
High-quality images.
Provides real daytime colors.
Has a strong build.
Waterproofed housing.
One of its major setbacks is that some customers do find it a bit expensive. Its estimated price is $250
Technology Specifications
A night vision of 185-120ft.
It is IP66 rated.
Has a 980H resolution.
700 TVL
3. Swann SWPRO-760CAM-US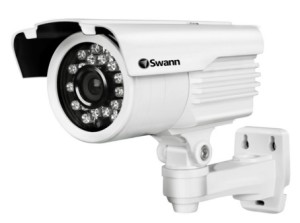 If you are searching for a home security camera that will cover a wider angle in or around your home, then this camera will prove to be invaluable! It features:
A 75 degrees viewing angle.
A weather resistant casing.
A friendly user guide.
Easily connects to devices such as the TV and DVR.
Ease in mounting on a variety of places.
Cost effectiveness.
The major cons of this camera are: Incase of poor external lighting poor quality images will be received and also the quality of pictures is determined by the distance between the camera and the DVR. The quality of images is poorer in longer distances.
Technology Specifications
60 ft cable.
Pro-760 wide angle camera.
One year Warranty.
Up to 30m night vision.
Its estimated cost is $300.
4. Netgear Vue Zone Add-on Motion Detection (VZCN2060)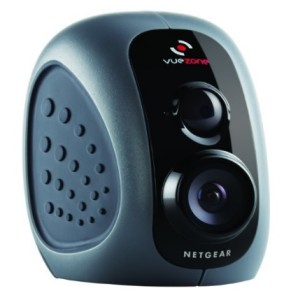 Tired of connecting too many wires to and from a device? This camera is wireless; which makes it easy to install. This means that you do not necessarily need professional help during installation.
It also eliminates the need for a power outlet since it uses batteries to operate. Other special features include:
It has both indoor and outdoor mounting options.
It comes with adjustable motion sensor sensitivity.
You are able to receive still images or short video clips alerts in your email.
Can accommodate up to 15 cameras.
It is able to detect motion within 15 Feet.
User-friendly setup and interface
The real downside side to these cameras is; they are a bit big in size and hence difficult to hide or disguise. You also need to regularly check the battery levels so as to ensure efficiency. This home security camera supports Infra-red light with a 25 feet illumination and alerts are motion driven and it costs about $100.
5. Amcrest 960h
One of the most unique features possessed by this camera is its 500GB hard drive. You can also expand this storage capacity upto 3 Terrabytes. Its large storage capacity enables it to continuously record data up to 6 days. Other features include:
 Enabled night vision.
 Heavy duty metal weather-proof cameras.
 Compatible with both android and iOS
 Great camera angles.
Its major con lies in its big cameras which make it quite obvious when set up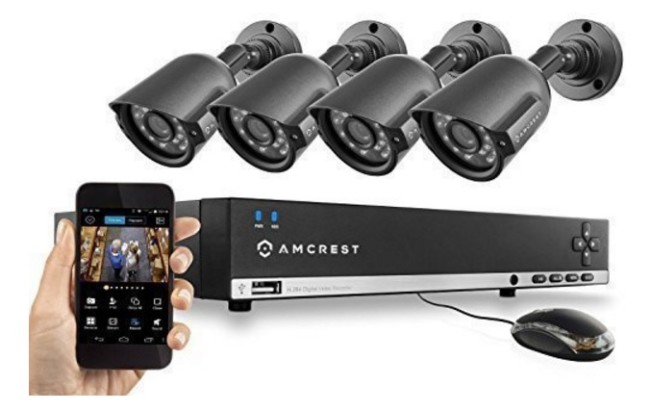 Other functionalities include USB backup, IR-LED night vision with 20 meters range. It costs  about $230. These camera's special features make them unique among other home security cameras.